One week from today the NHL season officially kicks off with the Washington Capitals raising their 1st (hahaha only 1, that's cute) Stanley Cup banner. The team that has the pleasure of watching the ceremony up close???  Your Boston Bruins.
As the team looks to drop the puck on their 95th season, Uncle Mitty is going to take a look at this years roster and make our season predictions.
The key to any good team is Goaltending. For the 94th year in a row Tuukka Rask will between the pipes on opening night. Tuukka came under a lot of fire last year with his slow start. A lot of fans, including my cousin Joey, do not think Rask is a #1 and Bruins should look for a new starter.
Well, lets look at the numbers. Rask finished last season with a .917 save % (19th in the league), 2.39% Goals Against Average (9th overall) 34 Wins (7th overall) and 3 Shutouts (16th overall) and the team finished with 112 points, good for 2nd overall in the Eastern Conference and 4th overall in the league. So, I'd say he is still one of the best in the NHL.
Backing Tuukka up this year is journey man Jaroslav Halak. This will be his 6th NHL team having made stops in Montreal, St. Louis, Buffalo, Washington, NY Islanders previously. He has been the Isles main guy for the past 4 season and appeared in 54 games last year with a .908 Save %. Halak is very hot and cold. When he is on he has proven to be very good. When off, well………. The question is will he be ok playing the backup role? If he is, and can be consistent, than the Bruins are looking real strong in net this year. Uncle Mitty ranking… A-.
Defense.
Zdeno Chara just does not seem to age. He must be on the TB12 plan or something. The 41 year old Captain enters year 14 with the Black and Gold. Although he may have slowed down….a lot…. he still adds a very menacing presence on the Bruins blueline. He won't log as much Power Play time, but will still be the part of the teams #1 pairing. 
Chara's D partner again this season will be second year stud Charlie McAvoy. Uncle Mitty is a huge McAvoy fan. This kid will log big minutes this year and will be on the first unit Power Play. We just hope he can stay healthy to play a full season.
The rest of the D core is interesting. Torey Krug is coming off of foot surgery and is really just getting back into skating. He will play a huge power play role again once he is fully back to form. The only real offseason move to talk about is bringing in John Moore from New Jersey. He should play top 4 minutes. Then the bottom 2 get interesting. For some reason Brandon Carlo is still around (watch him, he is terrible…ok he would be unreal on my mens league team, but not the NHL).
The offseason trade of team tough guy Adam McQuade means Kevin Miller will have to step up and drop the gloves a little bit more. That leaves Charlestown's own Matt Gryzelcyk and former B Steve Kampfer fighting to break the line up. Gryzelcyk proved he is an NHL D-man last year. He really stepped up when MCAvoy and Krug went down with injury. However, the Bruins can't have 3 D who are small and skilled. They need size and it looks like Grizzly is the odd man out.
Defense ranking. B. The Bruins do not have a true D superstar…Yet (Im looking at you McAvoy), but they are solid enough to play with anyone in the league.
Offense.
Marchand-Beregron-Pastrnak is arguable the best overall line in the league. They will be looked upon to carry the majority of the scoring this year….as long as Marchand can keep his tongue in his OWN mouth.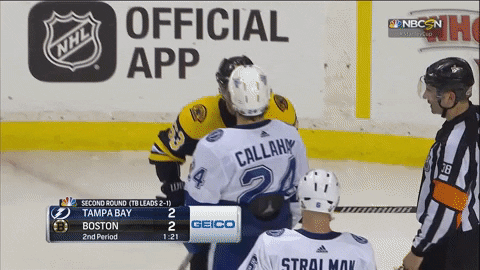 David Krecji will center the second line again. Krecji is an enigma to me. He has all the skill to be a Star, but can't seem to get there. He will never be an All-Star, will never have 100 point season. Hell, he can't even lead his own team in scoring. But he has a TON of skill. I am predicting that coach Cassidy puts local boy Ryan Donato on his wing. Donato proved last year that he can score and with experience and confidence this year he will only be better. David Backes will add size and that power forward type of play to add grit to that line. The second two lines are a real toss up. Jake DeBrusk is a good player, he may actually start on that 2nd unit instead of Donato. Then the rest of the group is kind of just there Dan Heinen, Sean Kurlay will add experience but the rest of the group is young.
Ranking: First line A. They would be an A+ if one of them was near the top of the league in scoring. 2nd line B. Pretty solid and will play key role. However, they are a true 2nd line unit. Lines 3 and 4. C. I just don't know what we will see out there.
Season prediction. Bruins will Finish 3rd in the Atlantic Division and 5th over all in the Eastern Conference.If the Bruins can add some scoring from lines 2 and 3 then they will have a strong year and will move up in the rankings. You can't play 82 games and rely solely on your top line. Their defense is solid and goaltending could carry them if they both play they way we all believe they can. However, Toronto, Tampa, Washington and Pittsburgh all look really good this year. Buffalo may be sneaky good as well.
Next Wednesday can't get here quick enough. Let the games begin!