It's warm outside finally (kinda), spring is in the air (sorta) and the Sox just took 2 out of the 3 from the Evil Empire. We are in full on baseball season folks so let's celebrate the only way Hi-Top HQ knows how – with an arbitrary yet completely definitive and contractually binding Top 5 list.
Top 5 – Nintendo Baseball Games
There were a LOT of baseball games on the NES. Of all the sports maybe football rivaled baseball in terms of sheer volume of titles but the thing that truly separated baseball from other sports was the creativity and variety of the endless titles. This wasn't a case of year after year updating rosters like you get with Madden or NBA2K. There was some real creativity and variety out there if you looked for it.
5. Base Wars
So you're bored with the average everyday baseball game. How about floating robots with rocket launchers for pitching arms, base stealing speedster unicycles facing off against tanks and instead of "tie goes to the runner" it's literal warfare at every base?
If you were a kid who spent his days memorizing the batting averages of the 1987 St. Louis Cardinals lineup then Base Wars was probably not for you but if you loved action and fighting games as much as sports then Base Wars was a damn good time.
4. Bases Loaded
Three words. Charge. The. Mound.
In the pre-Internet good old days secrets were passed in hushed tones behind the 7-11. after school. The skinny on which players would charge the mound after being beaned in Bases Loaded was passed from kid to kid like nuclear launch codes. It's defintely the first thing that comes to mind when thinking about this game but in terms of actual gameplay Bases Loaded was a pretty big step up for NES. It's the first time the view changed from behind the hitter to behind the pitcher and the visuals were certainly crisper and more realistic.
The major drawback that keeps Base Loaded from landing higher up on the list is that as a realistic simulation style game it featured fake players and not real MLB players. Bases Loaded with actual players is a Top Spot contender but instead it lands at #4.
3. Baseball Simulator 1.000
Baseball Simulator 1.000 could be played two ways – Normal or Ultra. Nobody ever played Normal mode. It was all about the Ultra. Bashing homers into outer space is fun. Jumping fifty feet into the air to rob a homer is even more fun.
2. Major League Baseball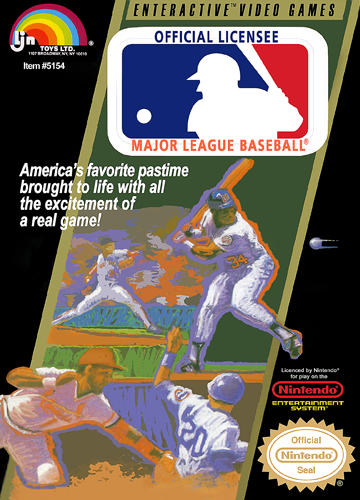 There's Coke vs Pepsi. MacDonald's vs Burger King. Nike vs Adidas.
For NES Baseball fans its Major League Baseball vs R.B.I. Baseball. You are either one or the other. Choose a side. The Lil' Dogg is Team Major League Baseball all the way and there's basically only one reason why. MLB looked like this:
R.B.I. looked like this:
R.B.I. made it look like every game was being played in a dome and as a true baseball purist Astro Turf is Satan. Playing Major League Baseball felt like a warm summer day outside at the ball park. Combine that with full rosters of all 26 teams as opposed to R.B.I. only having like 8 teams in each league (and yes it was only numbers and not names but that only added to the fun cuz you had to be a true fan to know jersey numbers).
1. Baseball Stars
Baseball Stars was the perfect combination of innovative game play, improved graphics and a super fun set up that lent itself to endless replay. Yes the players were fake but that was completely trumped by the fact that you could create your own team and then earn money to buy new players. Being able to create seasons and then bank profits from the attendance was mind blowing. You could keep season long stats. The more your team won the better your home attendance and the more money you got with each win. You could spend money to improve the players you already had, you could make trades with your buddies, you could fire guys when you brought n a Free Agent. The whole thing created an endless loop of immersive, addictive gaming that was unparalleled for an NES sport game. Not only was Baseball Stars the greatest NES baseball game of all-time it would (or should) easily crack any Top 10 NES game list regardless of genre. Baseball Stars was that good.
That's it. That's the list. Facts is facts and the fact is the Lil' Dogg would happily sit down right now and take on the Lovely Ladies (but not the American Dreams, man those dudes raked).
P.S. – Super Bonus Super Quick Insta Baseball Stars Top  Teams
5. World Powers
4. Japan Robbins
3. Ghastly Monsters
2. American Dreams
1. Lovely Ladies